The best thing about my editing gig with ITI is the chance to work with people writing about such interesting things. Talk about professional development! I told you about The Accidental Librarian earlier today, so I thought I'd also talk about two other fascinating titles coming out this month.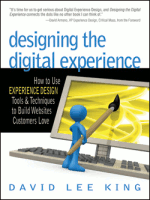 You probably know about David Lee King by now, but did you know about his new book: Designing the Digital Experience? David's writing is amazingly clear and readable, and here he walks readers through the concept of "digital experience design," going beyond usability to focus on all aspects of a customer's digital experience. If you design for the web, you might want to invest in a copy for yourself as well as one for your library
.
Want more? Read chapter 1 over on David's blog, or an excerpt from the foreword over on David Armano's blog.
And, speaking of digital experiences….
If you've been baffled by the ongoing hype around Second Life and other virtual worlds, or if you're fascinated by what libraries can do there, here's one for you:
In Virtual Worlds, Real Libraries, Lori Bell and Rhonda Trueman pull together a variety of contributors, each of whom is working on a different, yet fascinating, virtual world project. This is especially useful if you've been skeptical about the potential of virtual worlds, or confused about what goes on there — and fun to read about others' projects, if you're already a veteran.
Enjoy!